"A fascinating debut that delivers much, and promises a great deal more."
--Alan Moore, writer of Watchmen

"One of the best and most profoundly imaginative comics I've read for centuries."
--Dani Filth, singer of Cradle of Filth

"Amacker is a talent to watch."
--Hart Fisher, writer of Jeffery Dahmer: Portrait of a Serial Killer

On Wednesday, June 2nd, Seraphemera Books presents the third and final issue of the acclaimed underground comic Dead Souls, by New Orleans writer Kurt Amacker with art by Louis Manna and cover art by J.C. Grande. The immortals Vlad Dracula and Erzsebet Bathory are at a crossroads: will they serve the fanatically religious St. Germaine to destroy a sadistic New Orleans cult, or will they sacrifice everything they've learned to stand against him?

That night at the HiHo Lounge, Seraphemera Books, Sigh Co. Graphics, and Skully'z Recordz will celebrate the third and final issue of Dead Souls with a special signing and release party featuring...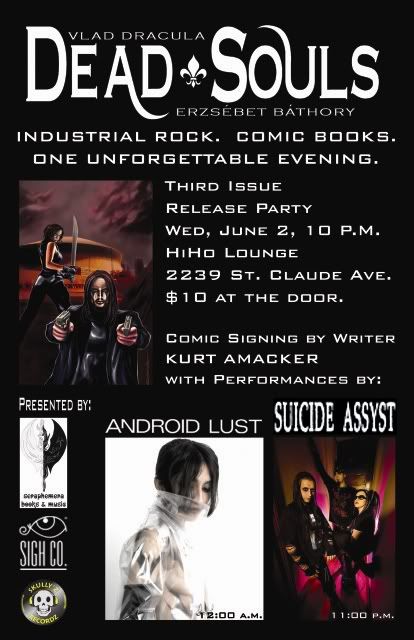 In short:
Dead Souls #3 release party
Featuring Android Lust and Suicide Assyst
Wed, June 2nd at 10:00 p.m.
The HiHo Lounge - 2239 St. Claude Ave.
$10 at the door