DJ Jyrki 69 of Finnish Gothic rock legends
the 69 Eyes
return to
New Orleans
for his only US appearance on a special DJ tour!
On Saturday, July 9, 2011, experience Fangtasia--a dance night of bloodsucking beats and vampiric rock n' roll. Joining Jyrki is Bad Things' DJ Fangpimp and his Vampsta Bitchez, along with a special DJ battle between the Chamber's Torrent Vaccine and DJ Flyhaed. Rounding out the evening's entertainment is a Goth-girl DJ fight you won't want to miss, as Lucifera takes on Stitch of Suicide Assyst.
Vampire fangs will be made on premises by Dark Awakenings--New Orleans's premiere fangsmith!
Doors open at 10:00 p.m. on Saturday, July 9th at
1135 Decatur
in New Orleans, LA.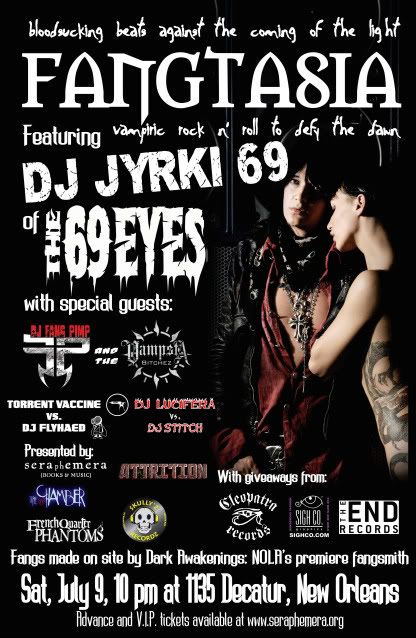 SPECIAL VIP PACKAGE: Take a special walk through the shadowy history of New Orleans with French Quarter Phantoms and Jyrki 69. Before Fangtasia begins, the
Helsinki Vampire
will accompany a special VIP walking tour, as attendees learn about the city's long history of hauntings and vampiric activity. All attendees will be presented with a bottle of Vampire wine signed by Jyrki 69, and will be given access to Fangtasia at 1135 Decatur when doors open. The tour leaves from Flanagan's Pub at 625 St. Philip St. at 7:00 p.m. sharp. Spaces are very limited.
Advance tickets will be on sale soon online at
Seraphemera Books
.
Presented by:
Seraphemera Books
Attrition
The Chamber
French Quarter Phantoms
Skully'z Recordz
Giveaways provided by:
Cleopatra Records
The End Records
Sigh Co. Graphics